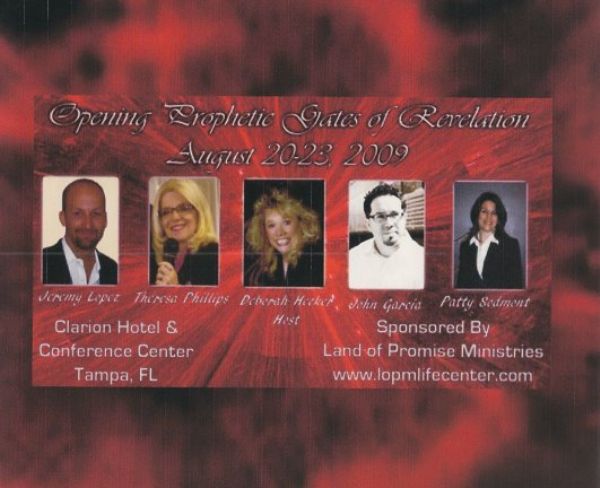 Opening Prophetic Gates of Revelation (8 CD Set) with Jeremy Lopez, Theresa Phillips, Deborah Hecker, John Garcia and Patty Sedmont
SKU#: PROD40802
Opening Prophetic Gates of Revelation


(8 CD Set)
with Jeremy Lopez, Theresa Phillips, Deborah Hecker,
John Garcia and Patty Sedmont
The purpose of the Opening Prophetic Gates of Revelation Conference was to embrace the current move and outpouring of the Spirit of God, as He is raising up an end time army to release His Glory into the earth. The prophetic word will position and activate you into destiny. Are you hungry for a greater anointing to be released upon your life?

Are you ready to move into a deeper call and walk with God? Do you know that God wants to raise you up to manifest His Glory in these last days? Do you desire to move in the power of signs and wonders? Do you want to know what the Spirit of the Lord is speaking in this hour? Then this conference is for you! Come and be open to Holy Spirit as He Opens Prophetic Gates of Revelation unto you, and shifts you into a higher dimension of His Glory! We believe this will be a life changing conference for YOU, as you draw closer to HIM!


CD SERIES INCLUDES:



DISC 1- Theresa Phillips
DISC 2- Patty Sodmont
DISC 3- Deborah Hecker
DISC 4- Theresa Phillips
DISC 5- Deborah Hecker
DISC 6- John Garcia
DISC 7- Jeremy Lopez
DISC 8- Jeremy Lopez



Product Details
Weight: 2 lbs.
Related Categories